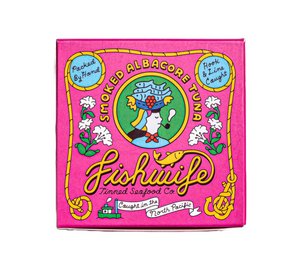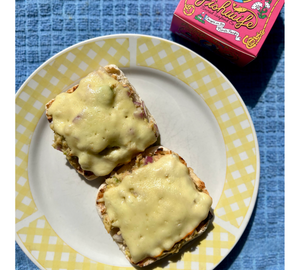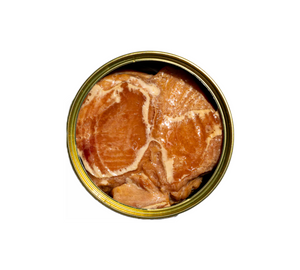 A delicious way to enjoy Fishwife's Smoked Albacore Tuna is by making a tuna melt (shown above) on any variety of our sourdough English muffins! Tuna melts are quick, hearty, delicious, and fun to make and enjoy! 
Fishwife's Wild-Caught Smoked Albacore Tuna is:
✨ Sourced from vessels participating in the MSC-certified British Columbia albacore tuna fishery.
✨ Caught with rods-and-reels in the Pacific Northwest by vessels that participate in the MSC Fishery. With this type of fishing gear, each fish is caught by one fishing pole, one at a time, to minimize bycatch and maximize quality control.
✨ Smoked in small batches over natural wood, hand-packed, and canned in British Columbia.
✨Our tins are BPA-free.

Ingredients: Albacore Tuna (Fish), golden yellow sugar, sea salt, garlic powder, curry powder, black pepper

Fishwife is a new female-founded and led food company aiming to make ethically-sourced, premium, and delicious tinned seafood a staple in every cupboard.

They source from responsibly managed fisheries and aquaculture farms to bring the vibrance of conservas culture to the North American table.
the BEST english muffins!! variety of choices and super fresh, my favorite are the cinnamon swirl!!
Shaun-Marie Murray
Fantastic muffins. The best I've ever had. Taste, texture , yumminess 👍Very addictive. Every flavor is my favorite 😊
Myra Klahr