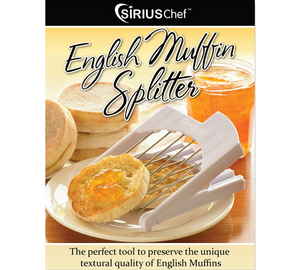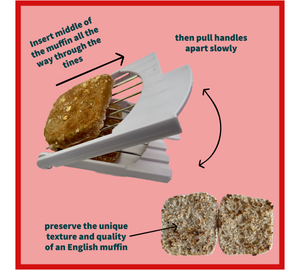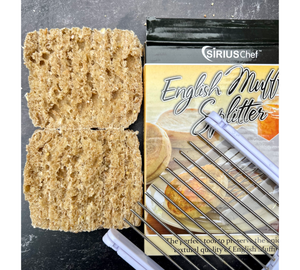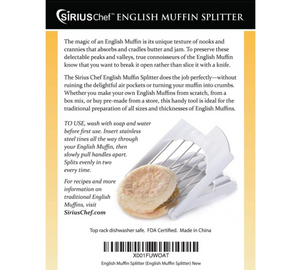 The magic of an English muffin is its unique texture of peaks and valleys that absorb and cradle whatever topping you desire (butter, jam, cheese, etc.). To preserve these delectable air pockets, true aficionados of the English Muffin know that you want to break it open rather than just slice it with a knife. This splitting tool does the job perfectly by gently breaking it open, leaving two equal muffin halves with perfectly preserved nooks and crannies.
Check out the below video for a comparison of knife splitting vs. using this English muffin splitter:
To use, wash cutting tines with soap and water before first use. Then insert stainless steel tines into the middle and all the way through an English muffin, then pull handles slowly apart.
The English muffin lovers in your life will appreciate this clever English Muffin Splitter, too, so it's also makes for an ideal add-on to your English muffin gift order!
English Muffin Splitter Features:
Preserve the delectable textural quality of an English muffin by gently splitting it instead of cutting with a knife and ruining all those nooks and crannies that cradle butter and jam so nicely!
English muffin splitter tool with rounded handles and modern design is approx. 6 x 4.75 inches to easily fit in a drawer.
FDA Certified. Stainless steel tines. Durable plastic handles. Top rack dishwasher safe.
Handy tool for splitting traditional-sized English muffins, mini muffins, and super thick varieties. Also great for biscuits.
the BEST english muffins!! variety of choices and super fresh, my favorite are the cinnamon swirl!!
Shaun-Marie Murray
Fantastic muffins. The best I've ever had. Taste, texture , yumminess 👍Very addictive. Every flavor is my favorite 😊
Myra Klahr