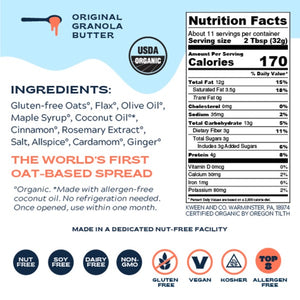 One 12oz. jar of Original Oat Haus Granola Butter from Warminster, Pennsylvania. 
"Granola Butter is the world's first oat-based spread. Our original flavor has the warm, cinnamon taste of granola and the silky smooth texture of a nut butter. With only 3g sugar and tons of healthy fats & fiber, it's guaranteed to taste good, and leave you feelin' good.
Best paired with yogurt, toast with jelly, sweet potato, a banana, croissant, blueberries."
A note from Ali Bonar, the CEO & Co-Founder:
"Ever since I was little, I have been fascinated by nutrition. I was amazed that you could alter the way you felt through the foods you ate; infatuated that what we put in our bodies can regulate sleep and mood.

This captivation has taken me on an exciting journey with many ups and downs. I went on to study nutrition at UC Berkeley, soaking up every little detail like a sponge.

Unfortunately, the nutritional "information overload" put pressure on me to eat perfectly clean all the time, and caused food to become very rigid & stressful. I ultimately developed an eating disorder that spanned over 10 years.

I've spent the last few years retraining myself to have fun with food. With the support of my therapist and the strong men and women who have shared their own journeys with me along the way, I've dedicated myself to helping others feel less alone.

In recovery, I re-introduced nuts into my diet (something I had heavily restricted for years), but my stomach couldn't tolerate them. While repairing my gut, I searched high and low for a healthy and delicious nut-free spread. Nothing really resonated with me, so I decided to create my own, and the world's first oat-based spread — Granola Butter — was born.

At Oat Haus, we want you to love yourself and live your best life — after all, we only get one (that we know of)."
the BEST english muffins!! variety of choices and super fresh, my favorite are the cinnamon swirl!!
Shaun-Marie Murray
Fantastic muffins. The best I've ever had. Taste, texture , yumminess 👍Very addictive. Every flavor is my favorite 😊
Myra Klahr