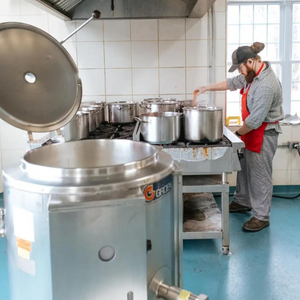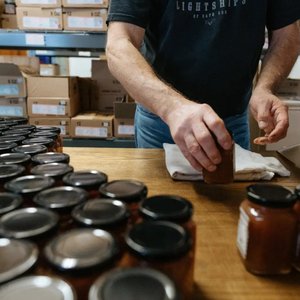 One 8oz. jar of Beth's Farm Kitchen Strawberry Jam, handmade in, Old Chatham, New York.
True strawberry classic with the deep flavor of sweet local fruits. slowly stewed - Not Mashed!
ABOUT BETH'S FARM KITCHEN

Beth's Farm Kitchen has been making quality products since 1981. The business was started by Beth Linskey, the author of many of the recipes that continue to be our customers favorites.

In November of 2016, the company was purchased by Jodie Emmett & Guillermo Maciel. Jodie & Guillermo chose BFK not only because the jam tastes fantastic, but also because they have a deep belief in the value of supporting local farmers, a company ethic from the start. They take daily joy and pride in connecting customers with the flavors and experiences of the Hudson Valley. As farmers themselves, Jodie & Guillermo plan to grow the ingredients for their own products, as well as to introduce a line of dairy products from their flock of sheep.

THEIR MISSION

Beth's Farm Kitchen strives to leverage the art of preserving the harvest in order to support the diversity and livelihoods of the people who work to bring us our food every day. Throughout the enterprise, we look to employ and support immigrants, people of color and those with a history of convictions.

Natural Ingredients: strawberries, cane sugar, lemon juice, fruit pectin (Vegan, Gluten-Free, No artificial colors, flavors or sweeteners)

Shelf Life: unopened 24 months, opened and refrigerated 3 months
the BEST english muffins!! variety of choices and super fresh, my favorite are the cinnamon swirl!!
Shaun-Marie Murray
Fantastic muffins. The best I've ever had. Taste, texture , yumminess 👍Very addictive. Every flavor is my favorite 😊
Myra Klahr