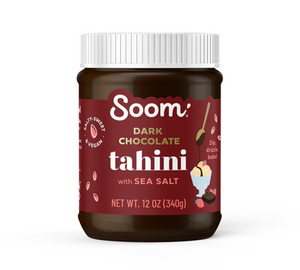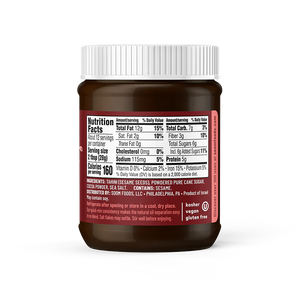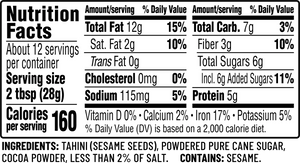 A delicious way to enjoy Soom's Dark Chocolate Tahini with Sea Salt is by spreading a tablespoon on both sides of a toasty gourmet Dam Good™ English muffin, and topping it with fresh fruit, or by eating it right off the spoon! It's THAT good.
One 12oz. jar of Soom Dark Chocolate Tahini with Sea Salt (vegan) from Philadelphia, PA.
"Looking for something that tastes indulgent but is secretly good for you? Look no further than this fan favorite! Just when you thought the deep, rich flavor and fudgy texture couldn't get any better, we went ahead and added flaky sea salt! Order extra, because you're going to want to put this on everything!"
A note from Amy, Shelby and Jackie, the owners:
"Great food brings everyone to the table. Thats why we started Soom - to bring you a nutrient rich superfood with unlimited uses. Soom Dark Chocolate Tahini with Sea Salt is dairy-free and perfect for topping ice cream, baking into cookies and cakes, or eating straight from the jar!"
How to use:
Slather on toast, use in your favorite smoothie recipe, generously top cakes and cupcakes, or eat out of the jar with the biggest spoon you can find (definitely our favorite way to enjoy!).

How to store:
If you don't eat it all right away, Soom Dark Chocolate Tahini with Sea Salt keeps best in the pantry for easy spreading or in the fridge if you prefer a more frosting-like consistency.

Ingredients:
Tahini (Sesame Seeds), Powdered Pure Cane Sugar, Cocoa Powder, Sea Salt.
the BEST english muffins!! variety of choices and super fresh, my favorite are the cinnamon swirl!!
Shaun-Marie Murray
Fantastic muffins. The best I've ever had. Taste, texture , yumminess 👍Very addictive. Every flavor is my favorite 😊
Myra Klahr