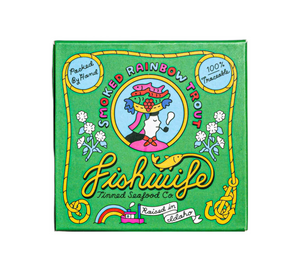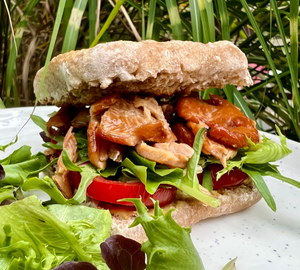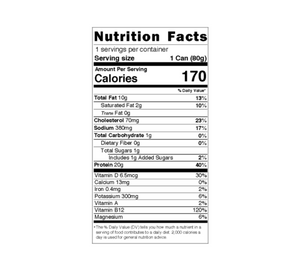 A delicious way to enjoy Fishwife's Smoked Rainbow Trout is by making a trout breakfast sandwich, a TLT, pictured above (trout, lettuce and tomato sandwich), OR by making avocado toast topped with trout on any variety of our sourdough English muffins!
Fishwife's Smoked Rainbow Trout is:
✨ Sourced from farms rated as "Best Choice" by the Monterey Bay Aquarium's Seafood Watch program.
✨ Smoked in small batches over a mix of beech, maple, and birch wood, hand-packed, and canned by fifth-generation family-run cannery on the central coast of Washington.
✨ Raised in pure Idaho spring water, always without the use of antibiotics, growth hormones, or genetic engineering.
✨ It has 62x less mercury than the FDA's allowable standard.
✨ Their cans are BPA-free.
✨ No artificial flavors, colors, or preservatives

Ingredients: Rainbow Trout (fish), organic extra-virgin olive oil, organic cane sugar, salt, organic garlic powder, organic onion powder
This rainbow trout is packed with extra virgin olive oil and is raised in pure Rocky Mountain spring water, alongside Idaho's SnakeRiver. Additionally, it is 100% traceable from egg to tin.
Fishwife is a new female-founded and led food company aiming to make ethically-sourced, premium, and delicious tinned seafood a staple in every cupboard.

They source from responsibly managed fisheries and aquaculture farms to bring the vibrance of conservas culture to the North American table.
the BEST english muffins!! variety of choices and super fresh, my favorite are the cinnamon swirl!!
Shaun-Marie Murray
Fantastic muffins. The best I've ever had. Taste, texture , yumminess 👍Very addictive. Every flavor is my favorite 😊
Myra Klahr