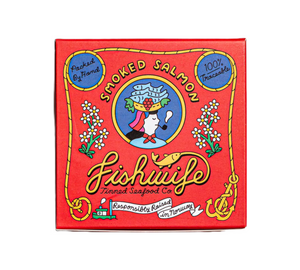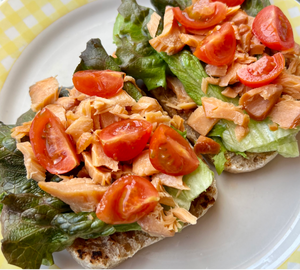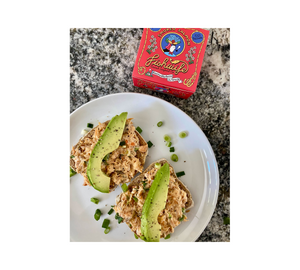 A delicious way to enjoy Fishwife's Smoked Atlantic Salmon is by making smoked salmon toast with cream cheese and avocado OR by making salmon spread with garlic, mayonnaise, lemon, etc. on any variety of our sourdough English muffins! Check out the recipe for salmon spread at the 'Recipe' section of our website! 
Fishwife's Smoked Atlantic Salmon is:

✨ Sourced directly from Kvarøy Arctic, the first finfish farm to carry the Fair Trade USA seal, and BAP, ASC and Global G.A.P. certification
✨Smoked in small batches over a mix of beech, maple, and birch wood, hand-packed, and canned by fifth-generation family-run cannery on the central coast of Washington.
✨Raised by third-generation family farmers in the icy Arctic circle with deep ocean currents that keep the water fresh
✨100% traceable on the blockchain from egg to tin
✨Fed a sustainable, nutrient-rich diet
✨Raised without antibiotics or chemicals
✨Their cans are BPA-free.
✨No artificial flavors, colors, or preservatives

Be sure to check out our Smoked Salmon Spread recipe at the "Recipe" section of our website where we used Fishwife's Smoked Atlantic Salmon, as pictured above!
Ingredients: Atlantic salmon (fish), dark brown sugar, salt, garlic salt (sea salt, garlic, salt, modified corn starch, sugar, parsley, natural flavor, extractives of carrot)

Fishwife is a new female-founded and led food company aiming to make ethically-sourced, premium, and delicious tinned seafood a staple in every cupboard.

They source from responsibly managed fisheries and aquaculture farms to bring the vibrance of conservas culture to the North American table.

the BEST english muffins!! variety of choices and super fresh, my favorite are the cinnamon swirl!!
Shaun-Marie Murray
Fantastic muffins. The best I've ever had. Taste, texture , yumminess 👍Very addictive. Every flavor is my favorite 😊
Myra Klahr